SYNTHETIC
PASSENGER CAR MOTOR OIL
ENEOS SN/CF 5W-30 assures rapid and stable lubrication, high thermal stability under heavy-duty conditions in a broad temperature range. It covers all automobile engines and ensures longer drain interval, cleaner combustion, enhanced fuel economy, lower emission levels compared to conventional mineral based oil.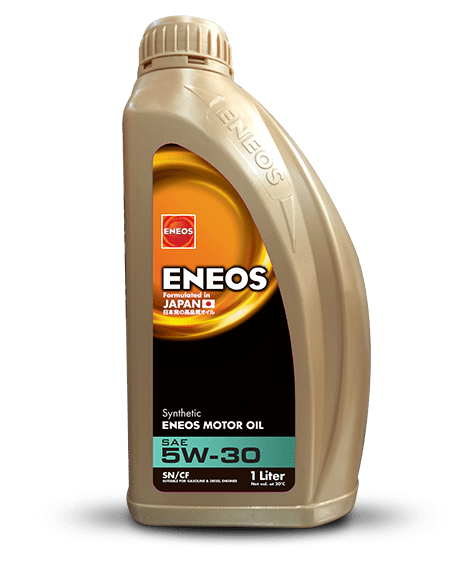 QUALITY
Synthetic Motor Oil
VEHICLE TYPE
Gasoline & Diesel engines for both passenger cars and light commercial vehicles. Suitability for all high-performance engines including turbocharged vehicles. Cars equipped with or without catalytic converters, turbo charged engines, soot filters and direct injection systems.
PERFORMANCE STANDARDS
SN/CF
EXCELLENT ENGINE PERFORMANCE UNDER ALL CONDITIONS
A high-performance engine oil with the latest API standard of SN. SN rating has a 0.3% higher fuel-saving effect compared to SM rated oils.
LONGER ENGINE LIFE AND EXCEPTIONAL ENGINE CLEANLINESS
Ensures exceptional engine durability and allows for longer drain intervals due to its exceptional oxidative stability. Its superb thermal and oxidation stability also ensures that it maintains engine cleanliness by suppressing sludge formation – which is known to cause engine seizures and pump clogging.
REDUCED INTERNAL ENGINE DRAG AND IMPROVED FUEL ECONOMY
Contains a carefully balanced blend of additives that helps improve fuel economy by keeping the engine clean, protect vital engine components from wear and reduce internal friction.
For technical details and prices, visit your nearest official ENEOS distributor.