FULLY SYNTHETIC
PASSENGER CAR MOTOR OIL
ENEOS PRO-RACING 5W-40 is a 100% Synthetic motor oil expertly engineered with technology proven under the most extreme racing conditions. Developed for drivers who demand the ultimate in engine power and performance while delivering maximum protection and efficiency.
AVAILABLE SIZES 1L and 4L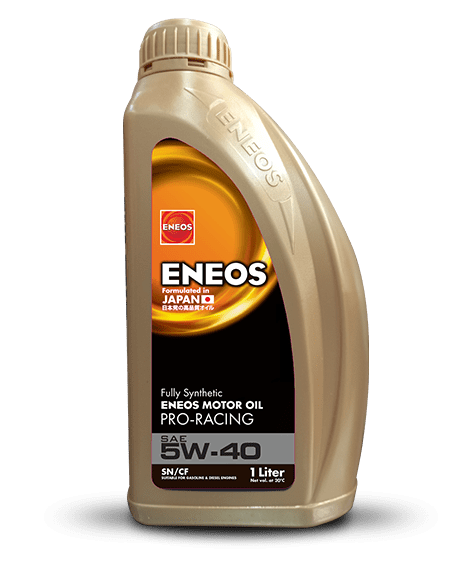 QUALITY
Fully-Synthetic Motor Oil
VEHICLE TYPE
Gasoline & Diesel engines for both passenger cars and light commercial vehicles Suitability for all high-performance engines including turbocharged vehicles.
PERFORMANCE STANDARDS
SN/CF
SUSTAINED MAXIMUM ENGINE POWER OUTPUT
An ultra-modern, high performance motor oil that assures rapid/stable lubrication and high thermal stability under sustained heavy-duty loads.
LONGER ENGINE LIFE AND EXCEPTIONAL ENGINE CLEANLINESS
Ensures exceptional engine durability and allows for longer drain intervals due to its exceptional oxidative stability. Its superb thermal and oxidation stability also ensures that it maintains engine cleanliness by suppressing sludge formation – which is known to cause engine seizures and pump clogging.
REDUCED INTERNAL ENGINE DRAG AND IMPROVED FUEL ECONOMY
Contains a carefully balanced blend of additives that helps improve fuel economy by keeping the engine clean, protect vital engine components from wear and reduce internal friction
For technical details and prices, visit your nearest official ENEOS distributor.