FULLY SYNTHETIC
PASSENGER CAR MOTOR OIL
ENEOS 0W-20 Fully Synthetic motor oil is expertly engineered to deliver enhanced fuel economy while providing unsurpassed wear protection for your engine. It is developed to deliver environment-friendly performance.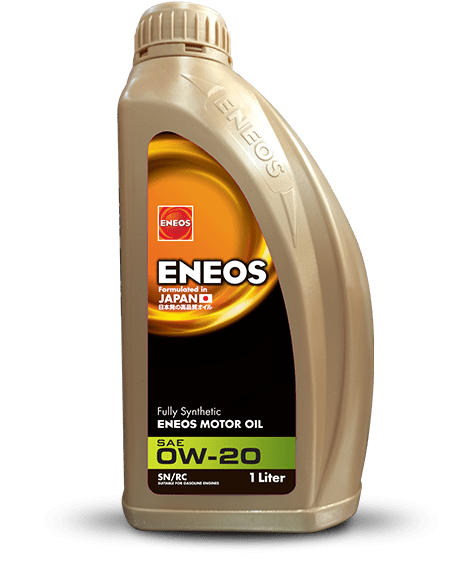 VEHICLE TYPE
Gasoline Engine Passenger Cars
PERFORMANCE STANDARDS
SN/RC
ULTRA-FUEL ECONOMY
Uses specially formulated additives that react with metal surfaces to form a lubricated film that minimises friction and enables superb fuel economy.
LONGER ENGINE LIFE AND EXCEPTIONAL ENGINE CLEANLINESS
Ensures exceptional engine durability and allows for longer drain intervals due to its exceptional oxidative stability. Active cleaning agents (metal detergents and ash-less dispersants) prevent sludge deposit build-up for a cleaner engine.
ENVIRONMENT-FRIENDLY, EXTREMELY LOW-VISCOSITY ENGINE OIL
Blended from high-performance fully-synthetic base oils and optimised additive blend to provide better thermal and oxidation stability than regular motor oils. Due to its innovative formulation, this engine oil achieves a low viscosity of 0W-20 which provides for excellent fuel economy and environmental protection.
For technical details and prices, visit your nearest official ENEOS distributor.